Whether it's turning inspiration into art or doing whatever it takes to help a fellow fan, the barenaked community is there. The barenaked.net community page celebrates fans, and all of their contributions. Fans like you and I. Fans that make the world a barenaked place.

The summer of 2001 featured one of the best series of concerts we have seen. The band premiered new material, the set lists rocked with fan favorites, and it seemed as though every fan went on a road trip to catch the guys in any city their cars could drive to.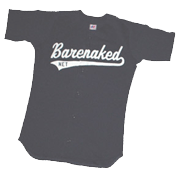 The summer was also especially nice for the folks of barenaked.net with the debut of the official barenaked.net baseball jersey (which later returned in 2004). Members from around the globe took part in this special custom-fit order with proceeds helping our favorite charity.

We receive a lot of email asking how and where to order, but the answer is you can not. The jerseys were available for a limited time do to their custom-fit production. More will be offered in the future, so check back with us then.

In place of jerseys in 2002 were the barenaked.net Social Chemistry t-shirts. Jersey or T-Shirt: They are both stylish and geeky! Look for them at a concert near you!


Have Photos??

Let us know how we can get to them and we'd love to add them to the site!